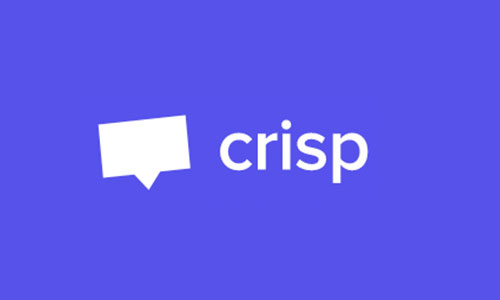 Crisp is a wonderful free live chat. This is the ultimate live chat app for your Dr Tech store if you want to grow your email base, generate new leads, and improve your customer relationship with just one software.
We use Crisp on Dr Tech, so you can see an example at the bottom right of your screen.
This free extension includes live chat, real-time notifications, desktop and laptop applications, and setting up chat availability hours.
You will also be able to share access to the inbox with your marketing, sales and support teams. You will also have access to our Help and Educational Resource Center which will help you better use Crisp while providing seamless service to your users.
Here's how our Live Chat extension will help you capture more leads and improve your conversion rates.
Live chat: offer visitors to your store the opportunity to communicate with you.
Crisp allows you to integrate a free live chat module on your website to allow visitors to converse with you. By using this application, you can thus use the live chat to:
Support: Answer any questions your customers may have about your business through live chat.
Make more sales: Answer any questions your potential customers may have about your product or service through live chat.

Your Marketing: Enrich your database by retrieving emails or phone numbers while segmenting each conversation to create a list of qualified contacts (optional).

Pro tip: If you want, you can set time slots to make the chat window available when you are, and unavailable the rest of the time.
Real-time notifications: Get notified when a conversation starts.
Support: Respond to your customers instantly.
Sales & Marketing: Be responsive, respond to your potential customers when they are on your store and never miss a sale again.
Pro tip: If you want, you can choose whether or not to receive these notifications.
Mobile and computer applications for a pleasant conversation.
Available for mobile on ios & Android
Available for desktop on Windows &
MacOS 
Pro Tip: If you want, you can respond to customers while you're away from your computer!
Additional features
See what your users are writing
Not all visitors to your website are born with the internet.
For many, it takes time to type an answer. With Crisp, you can see what the visitor is writing in real time, so you can respond with the right message in record time.
A fair price
Crisp offers a different business model from those of other players in the live chat market. The company does not sell a limited live chat. The service is free and unlimited. This is more than enough to cover the necessary needs of everyone using live chat.
Multiple extensions available
Within Crisp, you can add extensions to extend the power of your live chat.
An enriched user profile
With Crisp, you can see important information about your visitors such as their email, first and last name, avatar, geographic location, the different social networks they are on and the pages they have visited. on your website.
Enriched conversations
From emojis to animations, our chat system is fresh, cool and easy to use. Give it a try!
A wide choice of integrations
You can connect Crisp with Slack, your emails, Messenger, Twitter, Telegram, and SMS.
What are our customers saying about our live chat?
"Crisp stands out. It has much the same functionality as Intercom with a few additional features, and it offers simple and affordable pricing. The team's customer service is great and new features are arriving regularly. "
– Shai Almog, Co-founder of Codename.
"We could have had the same experience with other live chats as well, but the advertised price combined with all the features that Crisp offers means that we are already recommending the solution and will be recommending it to all of our customers at the looking for live chat software for their own need. We upgraded our account some time ago and are delighted with our decision. »
– Dominik Angerer, Founder of Storyblok.