Do not let your visitors choose the variation of your product with a basic drop-down menu
Display with color buttons, images … Several styles are available!
Considerably improves the experience of your visitors: they do not need to click on the drop-down menu to see which variants are available for your product.
Improves the aesthetics of your online store
Also show your variations on category pages
View samples on the catalog page / category.
To increase the conversion of your online store, you can also activate samples on the catalog page and category pages. Thus, your customers can quickly see variations of a product and add them to their cart.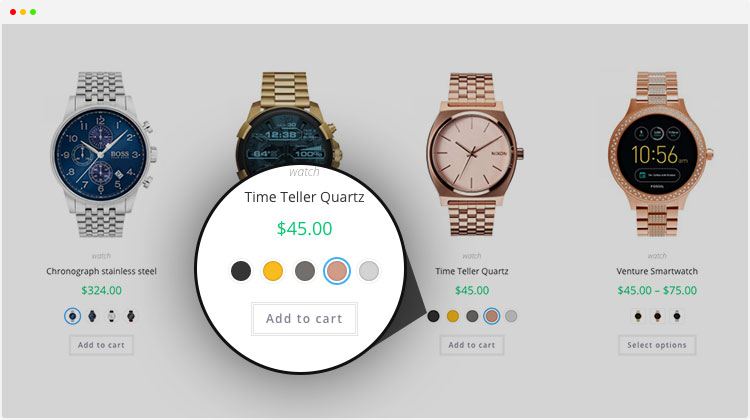 Product Overview Bubble Info on the Catalog / Category page.
You can quickly introduce a photo of the product selected by your client directly on the Category page. So, you show the product desired by the client even before he arrives on the product page.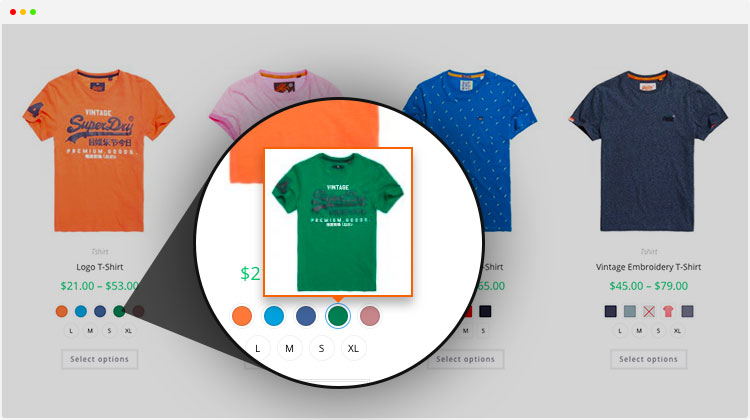 Text tool on the Catalog page
The tooltip can also include a description of the variation.You can describe in more detail the product that your customer chooses. Instead of image tooltip, you can activate Text to convince your visitor!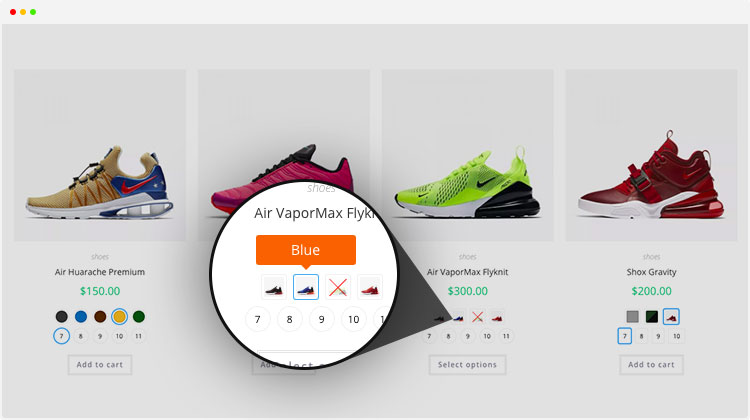 Dual color variation
Dual color samples allow you to insert two colors for a single variation. So if you have variable products with two colors, you can display them with a single variation.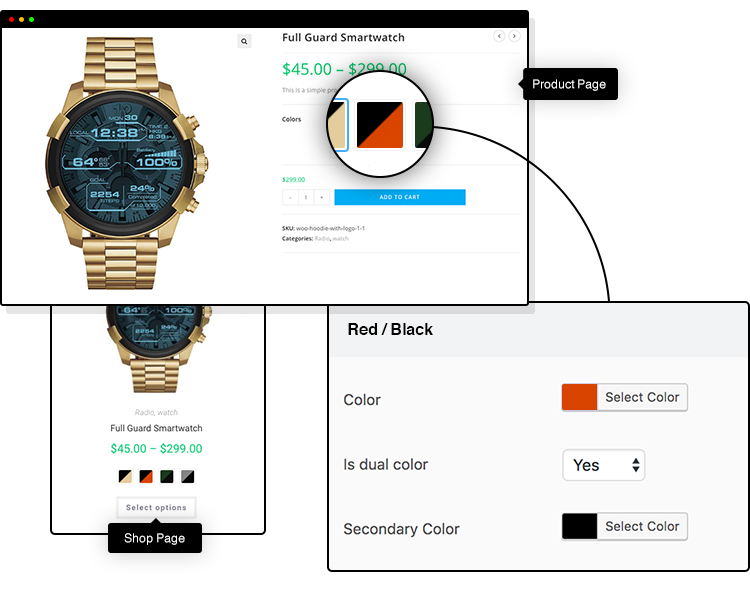 Generate a variant link
With this feature, you can create a link for a variation of your product, such as your red t-shirt. Thus, you can transfer this specific link to your customer for a quick purchase, share it on social media or via an advertisement.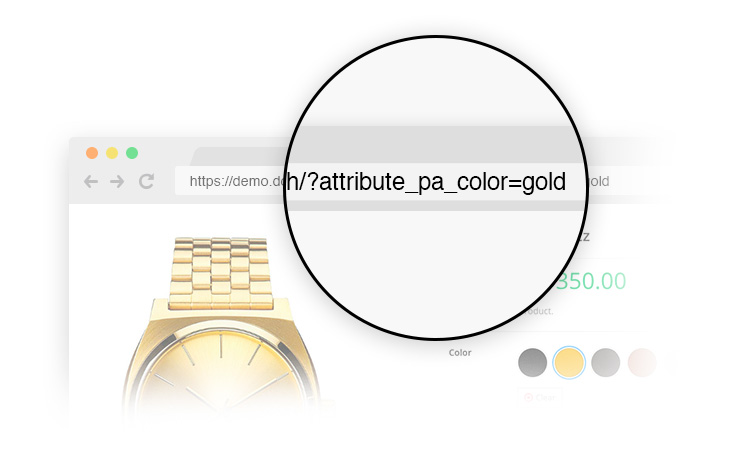 View the different colors of your product
This option displays the colors available for your product.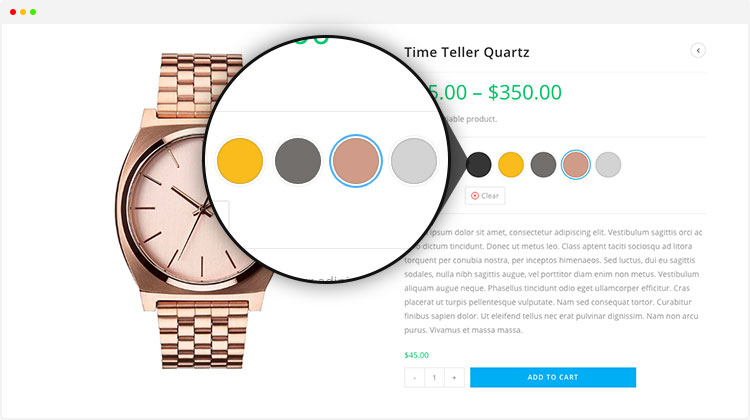 Display images of the variations of your products.
A great way to display the variations in your products.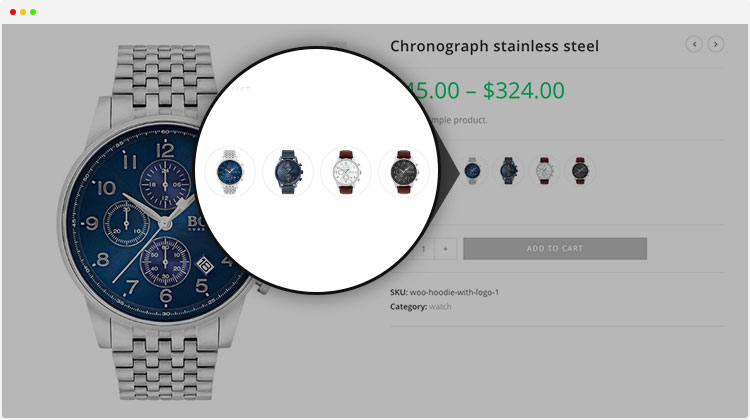 Display options as buttons
When it comes to displaying the sizes available for a product for example, this style considerably increases the conversion. It allows customers to quickly know what is available and select in 1 click what they want.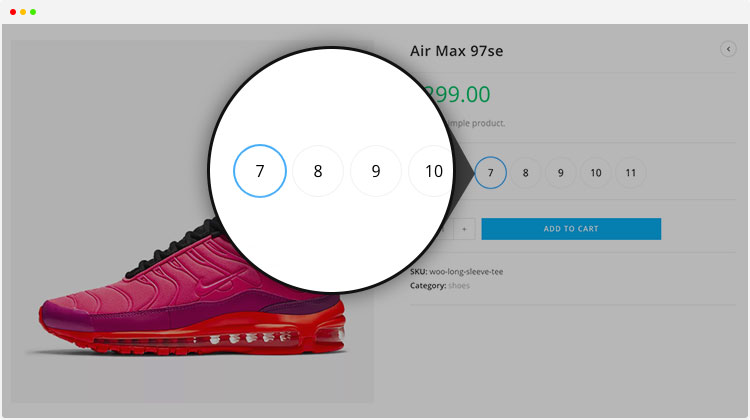 Display options as a "radio" button
Another type of button to quickly show the available variations of your product.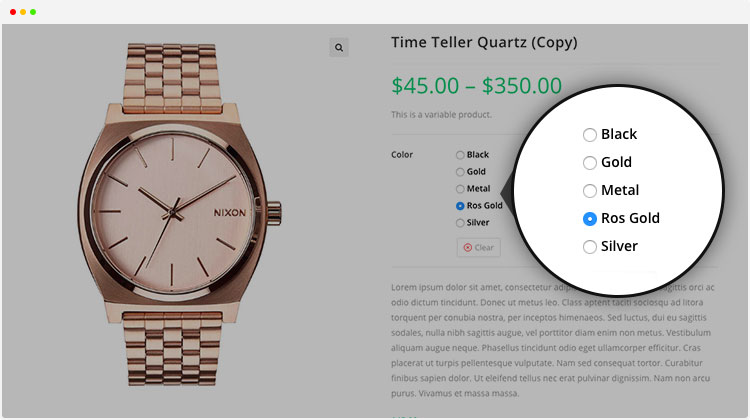 Blur / hide what is no longer available
If one of the variations of your product is out of stock, this application will blur or hide the variation. So your customers can not display it or order it, it is also convenient to show them that your products sells quickly!