David versus Goliath, Dr Tech versus Shopify ?!
This article explains why we decided to create Dr Tech, in spite of the market being dominated by Shopify. We wanted to create a solution without monthly membership fees, where all the applications and themes are free, and there is a zero transaction fee.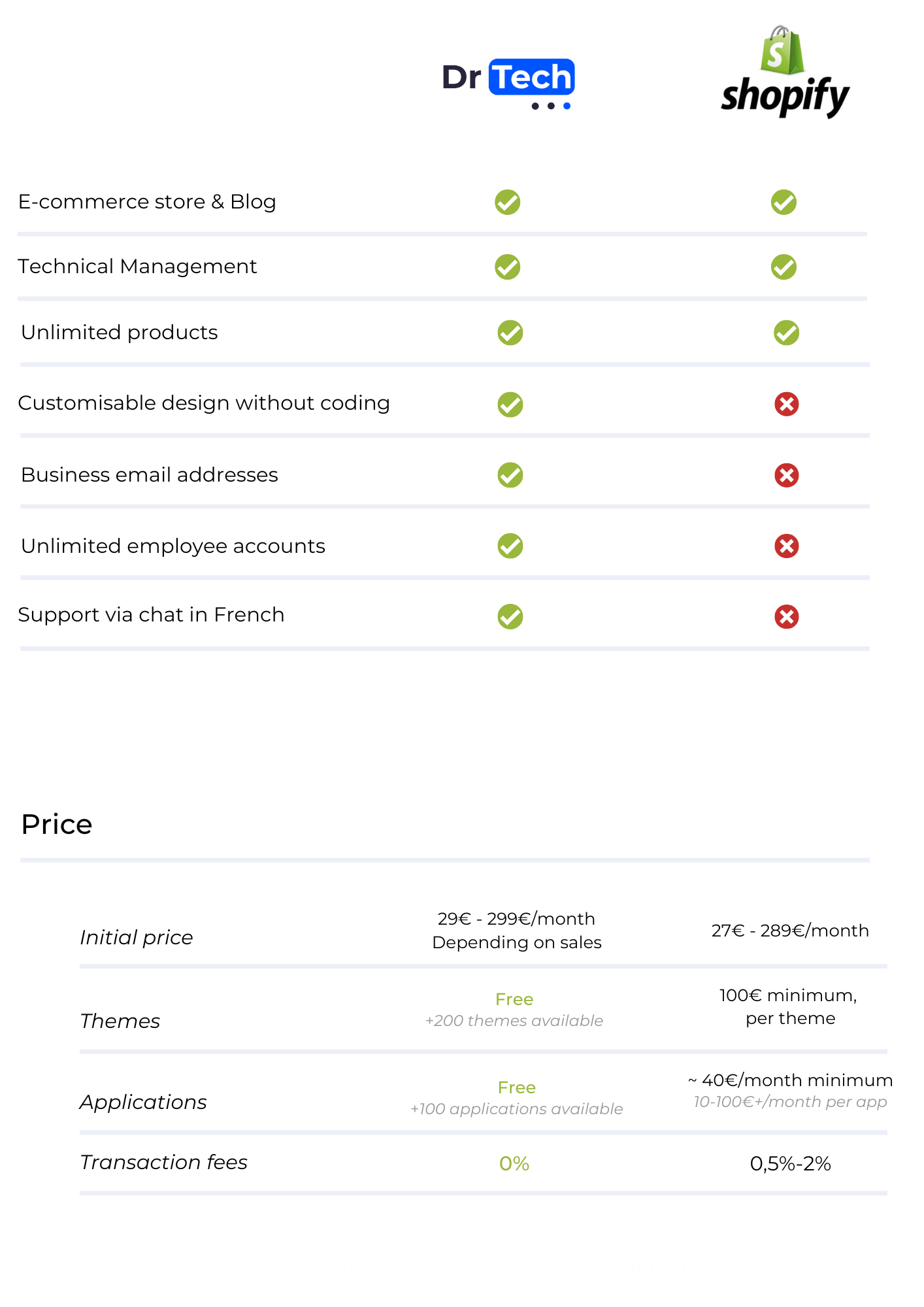 The goal of Dr Tech is to give to every person who sells online: 
The best features to optimise your online store
Enough time to find what's working for them and build a successful venture.
The ability to start with little capita
 But with Shopify, this is the deal : 
To open a store you have a 14-day free trial, with limited features, then you have to pay at least $29/month.

You have to buy a

theme, minimum $100

You have to add a few applications, minimum 10$/month per app.

 
Some examples of applications you must use, recommended by the expert : 
Loox from $9,99/month
Vitals $29,99/month
So even if you don't sell anything, you need to pay for shopify + the theme + the apps. That amounts to about $100 + $60/month for the bare minimum, as listed above.
Why do you need a premium theme and apps?
You could pay only $29/month for Shopify, couldn't you?
Yes, in theory you could. The problem is, if you do that, your chances of getting sales online are much lower because you will lack some very important e-commerce features that Shopify doesn't include in its plans. That's why their premium theme and app are so popular. 
So, if you stick with the basic plan, you will get fewer visitors to your store. Fewer visitors will become customers, and the customers you do get will spend less.
E-commerce is becoming more and more competitive, with hundreds of thousands – if not millions – of online stores competing to get the attention of your customers. If your store is not using the latest e-commerce strategies, it will be very hard to get noticed, because your competitors do use them.
That's why the premium app and theme are mandatory for your success, and why all the Shopify experts recommend a bunch of them.
But why would you pay for them when you can have them ALL for free with Dr Tech?
With Dr Tech, everything is included, and will be included forever.
All the features you can find on Shopify to optimize your store, you can also find on Dr Tech. Everything that can be done in a Shopify store can also be done in a Dr Tech store. 
At Dr Tech we work like shopify. You choose your theme, add your product, set up your applications … and you will are ready to sell. 
But the big difference is that we include all the themes and applications for free. There is nothing to pay, you can use them all. 
So you can use the best in e-commerce without being limited by your budget… attracting more traffic to your store, turning more visitors into paying customers, and increasing your revenue per order.
This includes:
Over 100 free apps, 0 paid apps

 

Over 200 free themes, 0 paid theme.

 
Moreover, we make sure to keep our apps and themes up to date. We follow the latest trends and the best practices. We look for new optimization that we can add to your store and improve your e-commerce journey: we often add new themes and new apps, always for free.
Some additional good news for you:
Unlike Shopify, Dr Tech doesn't take a fee off your sales. Shopify takes from 0,5% to 2%. We take 0%. Which makes you more profit in the end. 
All our themes are optimized with the e-commerce best

practices and latest trends
With Shopify, even if many themes are available, everyone ends up buying the same one. The reason? Not all themes are created equal.. Some of them have better performance than other, some includes better features than others. So, in the end, if you are serious about selling online, you want the best theme with the best optimisation and the best features, so everyone ends up buying the top theme.
And as the Shopify themes are not customizable without a developer, everyone ends up having stores that look the same and have the same functionality. It's clearly not good for branding. A store selling goods for babies will look the same as a store selling clothes, which looks the same as a hardware store!
With Dr Tech, the only difference between our themes is the design. All our themes include the same features, the same functions and all the best optimization for e-commerce. So when you pick a theme, it's only for design purposes, not performance. You will have the best performance anyway.
All our themes are 100% customizable
Unlike Shopify, all our themes are 100% customizable, with our drag & drop Visual Builder. So, without writing a single line of code, you can create the design that you want, become unique, and stand out from the crowd. You can even customize your cart and checkout page !
It's also possible to start from scratch and create your own theme. Also, without writing a single line of code.
Our unfaire advantage: a 
5 star
7 star support
 !
For Shopify, you are one client among many.
For us, you are among our first customers 😍
For Shopify, if you don't sell, they don't really care.
For us, if you don't sell, we don't sleep at night trying to find out how we can help you!
As our friend at Avis said in the 1960s:
"We Are Number 2. So We Try harder."
At Dr Tech we have the same mentality against Shopify.
It's crucial for us to be sure you are not happy – but tremendously happy – with our solutions. Otherwise, we have little chance to exist in the long run. For example, it's currently still our founder, Martin, who handles the customer support. So, more than a simple "customer support agent", you talk directly to someone who understands business, marketing, e-commerce and who really wants to make his business successful. By talking directly to you, it helps him understand quickly how you use our software, so we can make the necessary changes and improvements blazing fast.

When we will be a multinational listed on the NASDAQ, he won't be able to answer your queries. But as we are still a startup – enjoy !
And what if you aren't happy? We refund you, with no questions asked
If you are not tremendously satisfied with your solutions, we will give your money back. Just let us know within seven days of your order, and you will receive your refund.
Ready to join the Dr Tech revolution?